12 Steps to Transform your Balcony or Patio into the Ultimate Mindful Space
Written by Isobel Watts | Sunday 9th May 2021 | Reading Time: 15mins
How Do I start?
We're here to help you design an outdoor space on your balcony, terrace, or patio, that will be a comfortable and multifunctional space for you to practice mindfulness and relaxation in your own home, and still enjoy the benefits of being outside.
The idea is to create a place that is relaxing to you and is somewhere that you want to spend your time. This isn't about following all the trends or curating a certain aesthetic, it's about creating a space that makes you feel happy, where you can practice mindfulness.
Practising mindfulness and maintaining your mental health is one of the most valuable things you can do for yourself. Spending a little time every day doing something that makes you feel relaxed or re-energised, whether it's yoga, journaling, or just having some Me Time, can improve stress and anxiety, help you sleep better, and help you focus on the important things in your life. Taking these activities outdoors really elevates the experience. The feeling of the fresh air, the wind in your face, birds chirping, the natural light, and even just the knowledge that you are outside can lift your mood immediately.
So let's get started!
Give Your Space a Purpose
Before you start frantically buying different pieces for your outdoor space, take a moment to think about what you want to gain from it. If you're reading this blog right now, then you're probably looking for a place to relax in, feel calm, and focus on your self-care and mindfulness activities. But let's be more specific.
What will you use the space for? Meditation? Yoga? Reading? Journaling? Enjoying breakfast? Unwinding at the end of the day? Or maybe a combination of all of these and more? Think about how you want to feel when you're doing these things. Relaxed? Focused? Energised? And lastly, who is sharing the space with you, and how will they want to use it?
Having these answers in mind will help you to understand your space and visualise what you want it to be.
TAKE A SEAT! Once you've got a good idea of how you want to use your outdoor space, you can start thinking about different seating options. Here are 4 examples to get you started: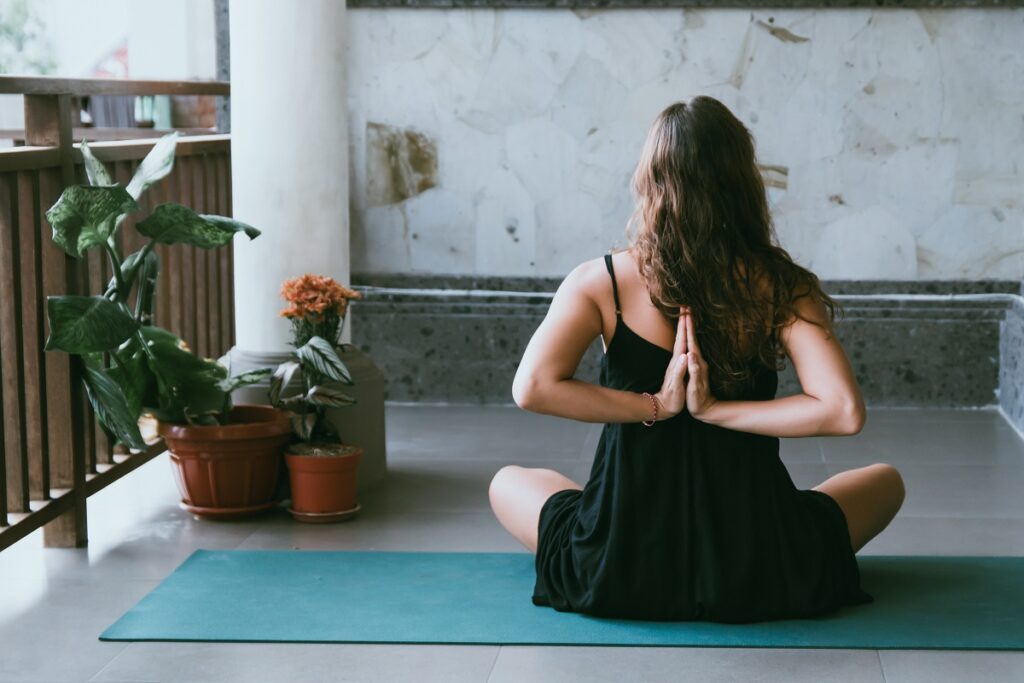 Meditation & Yoga
For meditation and yoga, you might want to create a designated area with rugs, yoga mats, or floor cushions to sit and lay on. You could include a low-level shelf or side table to keep your essentials accessible whilst you're on the floor.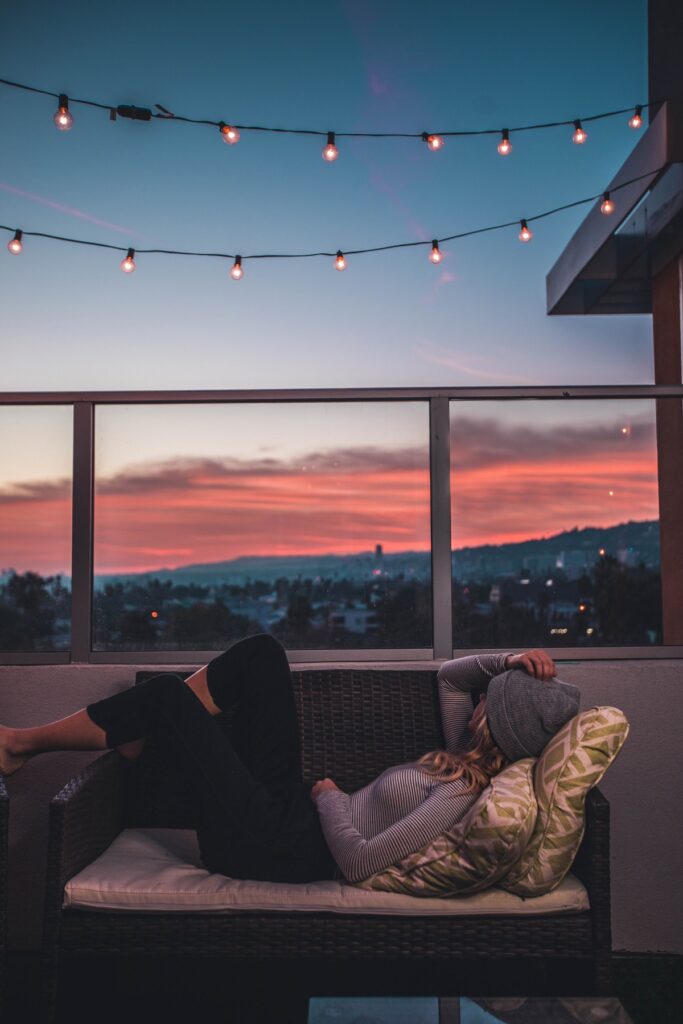 Relaxation
For a space where you can relax and unwind with a good book or a glass of something, relaxed seating such as benches or individual chairs are a great option, as well as lots of soft furnishings to keep it comfy. Bench seating is also ideal for socialising and can easily incorporate storage too.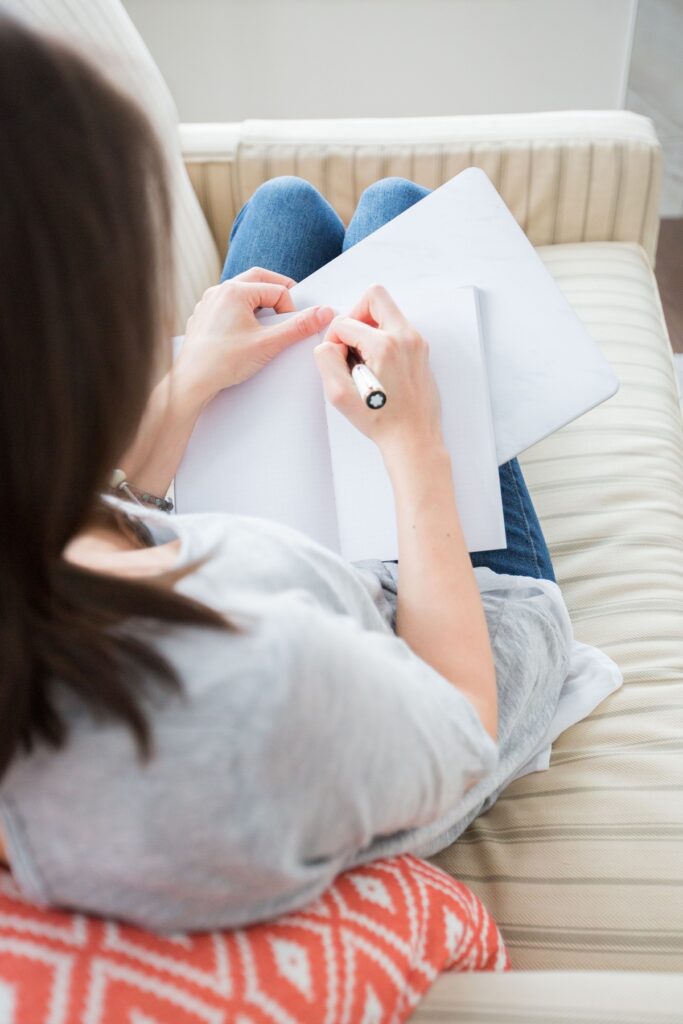 Reflection
 For somewhere to have your relaxing morning cuppa or practice your journaling, you might prefer bistro style seating with a table to eat at or lean on. This type of seating is also great for having a relaxing meal or evening drinks.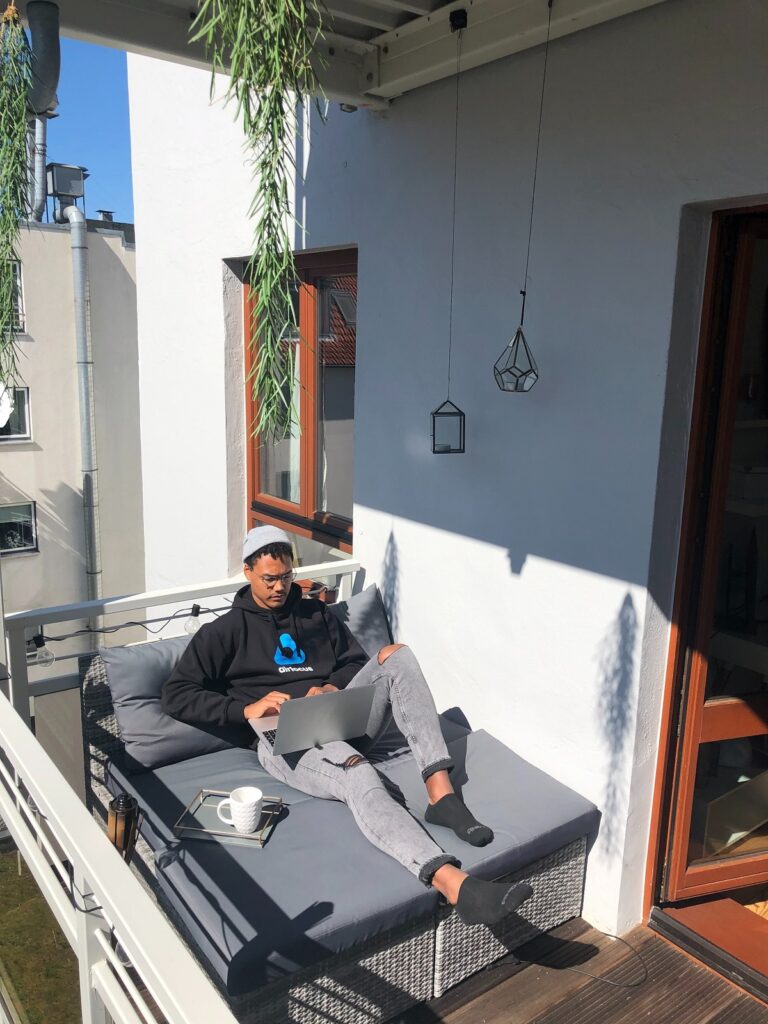 Versatility
 If you're going for a versatile space that can do all of these, then flexible seating will be right up your street. Benches with removable seat pads that can double as floor cushions, or fold-out daybeds can be a great way to make the most of your space and are especially handy for smaller balconies or terraces.
Keep Your Plants Close
Having plants on your balcony or terrace is a great way to bring life into your space and make you feel closer to nature, no matter how high up you are! Plants also have amazing mental health benefits, as their presence can help you to feel calm and peaceful, and taking care of them injects a relaxing and meaningful routine into your lifestyle.
Including your Finding Roots MicroGarden into your regular routine is a great way of improving mindfulness by creating good habits for yourself, and caring for your plants at the same time. The self-watering feature of our planters means that it's super easy to check the indicator to see when your plants need a drink. Turn checking the reservoir into a habit, and every time you top it up, make sure to take a glass of water for yourself too!
A lovely way to get to know your MicroGarden is to document its progress throughout the season. Making notes on the changes in your pot, taking weekly photos or sketching what you see can give you a chance to wind down and spend some time immersed in nature.
A really important part of having plants in your outdoor space is keeping them healthy. Deadheading flowers and snipping fresh herbs encourages new growth and maintains the health of your plants. It also gives you that satisfying home-grown taste in your meals.
By having your plants as close to you as possible, you can reap the mental health benefits. The wheels on our planters makes moving them around super easy, so they can be next to you wherever you are, whether that's reading on a sofa or meditating on the floor.
Like a 'Real' Garden
Aside from the obvious tip to fill it with plants, there are loads of easy ways to make your urban space feel more natural and organic – like a real garden! Including garden-like features in your balcony or terrace will help you to feel like you're really in a natural environment, give life to your space, and help you to feel more relaxed and comfortable.
A really fun option for flooring is laying artificial grass or a grass-effect rug. This will make it look like you have your own personal lawn, is easy to care for, and adds lovely natural textures and bright colour into your space without taking up lots of room.
Another great idea for floor coverings is using multiple materials to separate the space into a few zones. This could include the grass look, wooden slats, paving stones, or scattered pebbles. Giving your balcony or terrace this kind of landscaped look reflects those seen in full sized gardens, and will give you clearly defined areas that you can use for different purposes, from yoga to socialising.
Centrepieces are another good option to give your space the garden look. Sculptures or water features can look beautiful and act as a focal point in your space, not to mention the relaxing sounds that trickling water can make. You can create your own centrepiece using the Finding Roots MicroGarden by arranging pebbles or moss around the base, and placing some sculptures or ornaments around it to bring attention to your lovely plants.
Light It Up
Lighting is one of the easiest ways to transform an average space into an amazing one. For a relaxing and mindful space, you may want to stick to warm light with yellow undertones (rather than cooler blue light), as this is much kinder on the eyes and will create a cosy glow.
Smaller items like electric or battery powered candles or lanterns can be dotted around the space to create a general ambience, and can be placed on the floor, tables, shelves, or even wall mounted. Larger items such as fairy lights or salt lamps are great decorative pieces, as well as providing more light, so they're great for self-care activities where you need to see better, such as reading or journaling.
Colour Palette
It goes without saying that your colour scheme should be something that you like, makes you feel good, and is a reflection of your personality. The colours of your outdoor space can change the entire mood, so consider where you want it to sit on the spectrum of relaxing to energising.
Keeping larger pieces like furniture in neutral shades will stop your space from looking too overwhelming. Choosing woods with a warm tone like oak or bamboo will make your space feel cosy and comforting, whereas a cool toned wood such as a grey or whitewash may be useful for sunnier areas as they can cool down your space.
Your accessories and soft furnishings are where you can really bring the space together and your colour scheme to life. Combining similar colours like blues and greens, pinks and oranges, or shades of beige and brown will give your space a cohesive look with a relaxing feel. Using brighter or contrasting colours like black and white, red and green, or purple and yellow will create an exciting and stimulating environment that would work well for spaces used in the mornings or for entertaining.   
Store and Style
We've already talked about how important your seating is, but every usable space needs to have some kind of practical furniture. There are loads of great options to choose from.
Think about what you want to use your tables for. Side tables are great for placing drinks, books, lighting, or decorations, whereas taller tables are perfect for eating or writing at. There are also lots of great space-saving fold-away options to consider.
What kind of storage do you need? Wall shelves make great use of vertical space, so are ideal for smaller balconies or terraces. Chests, baskets, or miniature ladder shelves are an attractive option for storing small items and can double as tables. 
Whether you prefer a minimalistic style or something more ornate, try not to go overboard with the amount of furniture you use, as it can easily make an outdoor space (particularly small ones) look cramped or cluttered.
Comfort is Key
Soft furnishings are a must have for balconies and terraces, as they can do wonders to soften and cosy up what can be quite a harsh and cold place. Try to get cushions, throws and blankets in a range of different textures such as linen, knitted, velvet, corduroy, embroidered, and appliquéd, as this will keep it looking interesting and cosy. Curtains can also help to make your space feel more homely, as well as give privacy and zone the space.
Rugs are a great renter-friendly flooring option that can really help to make the space feel more cosy without using up lots of space. Although you may use a yoga mat or floor cushions to sit and do yoga on, incorporating a rug or two will soften your space, add colour and texture, give it a personal touch, and cover up any ugly flooring that you don't like. There are loads of practical outdoor rugs available that are washing machine friendly and can be easily swept, hoovered, or shaken out when you need to.
Sun and Wind Protection
If you're planning on using your balcony or terrace a lot (we hope you are!), then it's a good idea to think about the kind of weather you'll be getting and how to protect yourself and your plants from it.
If you're lucky enough to get lots of sunshine in your outside space, great! But sometimes it can get too distracting and prevent you from fully relaxing. Consider a curtain, folding screen, or a well-anchored parasol as a flexible option to protect you from the sun. Parasols in particular are a physical barrier, and so have the added benefit of acting as wind protection too.
Some other types of wind protection could be a set of wooden slats or some garden screening, which can attach to balustrades for a sturdy and attractive barrier. These can stop the wind from disturbing your mindful activities, whilst also making your space feel more cosy, especially in the colder months.
Décor
It's really important that your space feels personal to you and is somewhere that you can feel at your happiest. Decorations are a great way to do this. By choosing items that you love and make you feel good, you can replicate that positive emotion every time you sit on your balcony or terrace. Some examples of décor pieces could be our MicroGardens, artwork, wall hangings, macramé, sculptures, ornaments, stones, crystals, or ceramics.
Mindful spaces tend to veer on the minimalistic side to make sure that there aren't too many distractions or stresses to prevent you from relaxing to the max. To stop your space from feeling overwhelming, create a focal point by choosing larger key pieces which makes you feel happy and calm. You can also try switching out your smaller décor frequently to minimise clutter. Don't forget to make use of vertical space, setting décor on shelves or mounting it on your wall.
Find Your Relaxing Backing Track
Background noises and music can be more important than you might think. They help to set the tone for what you're doing and can make you feel at peace with your surroundings. There are a few different types to try out:
Nature Sounds – there are endless playlists of nature sounds to choose from, from birds chirping to whale noises, crashing waves to thunderstorms, or wind in the trees to rain in a rainforest. We recommend finding your favourite sounds by imagining a place that makes you feel your most relaxed, and thinking of what noises might occur there. It could be a beach, a forest, a meadow on a summer's day… the choices are endless with this one.
Natural Musical Sounds – this can be things like bells or windchimes, which create musical and unpredictable sounds that are perfect for relaxing and focusing on nature. It could also be the water running down your fountain. These sounds can be extra relaxing as they have a physical presence in your outdoor space.
Relaxing Music – something like classical music or lo-fi hip-hop can be great to play as you're doing something else, as the sounds are rhythmic and predictable, yet have no lyrics. This makes it perfect for when you're concentrating on an activity. This category can also include meditation music which is perfect for (you guessed it!) meditating and doing yoga.
Sensory Sounds – if you haven't heard of it, ASMR (Autonomous Sensory Meridian Response) is a range of different sounds and visuals that many people find relaxing and is known to give you 'tingles' in your head and spine. It can include whispering, scratching sounds, virtual massages, and more. It is designed to make you feel relaxed and can help insomnia, and therefore is a great option for when you want to wind down or when trying to focus on other activities, as the lack of melody or lyrics make it easy to switch off your brain.
If you live somewhere particularly noisy, then investing in a pair of noise cancelling headphones could help to drown out the distracting sounds of the city and let you enjoy your relaxing space.
Smells and Scents
Just like background noise, scent is an important element of the space as it engages yet another one of your senses.
Of course, your number one priority is to pick a scent that you enjoy. Beyond that, try basing your choice on what you're using your space for and how you want to feel. For example, scents like lavender, pine, and vanilla can be good for relaxation and de-stressing, citrus is great for making you feel energised, and peppermint can boost concentration to help you focus.
Some great ways to make your balcony smell amazing are reed diffusers, potpourri, or a spray (either for the air around you or for your body itself). You can also enjoy the natural scents of the seasonal flowers and fresh herbs from the Finding Roots MicroGardens, which contain soothing aromas to help you feel grounded, calm, and at one with nature. 
The Bottom Line
At the end of the day, your outdoor space is exactly that: it's yours!
If you can create an area that is personal, comfortable, and is somewhere that you actually want to spend your time, you've won.
We hope you found these tips helpful and that you enjoy transforming your balcony or terrace into a mindful space!